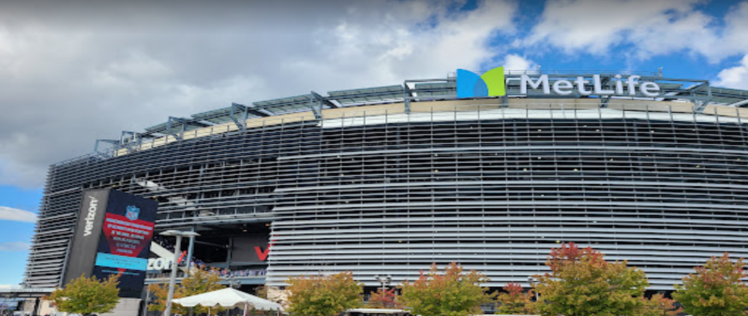 MetLife Stadium (NY Giants/NY Jets) Limousine & Car Service, East Rutherford, NJ
Nothing compares to the thrill of going to a big game at MetLife Stadium. This top-notch facility offers something for everyone if you're a football lover or just looking for a good time. And what could be better than getting there in style? Our luxurious limo service allows you to enjoy a comfortable, stress-free ride to and from the stadium. 
Contact us today to book your reservation!
The MetLife Stadium – Home for New York Jets
The New York Jets and New York Football Giants call East Rutherford, New Jersey, home, and MetLife Stadium is where they play. It is among the largest NFL stadiums, holding 82,500 spectators. 
The largest events on the grandest stages are held at MetLife Stadium. Over 500 big and 2,500 unique events have occurred at MetLife Stadium since it opened in 2010. Numerous concerts, collegiate football games, and international soccer matches are being played here.
MetLife Stadium Location
MetLife Stadium is located Five miles (8 km) west of New York City in East Rutherford, New Jersey, at the Meadowlands Sports Centre.
The George Washington Bridge Route
Go south on the New Jersey Turnpike by crossing the George Washington Bridge. Take the Turnpike's western spur to either the 16W or 18W Sports Complex exit. These exits provide quick access to the Sports Complex's parking areas.
East Of New York City And Elsewhere
Take the Lincoln Tunnel, then take Route 3 West as directed. To get to the Sports Complex, take Route 3 West.
Taking The New Jersey Turnpike North
Access to the Sports Complex parking lots is made possible by taking the Western Spur (Sports Complex) to Exit 16W. If the traffic is backed up, utilize the eastern turnpike spur (Lincoln Tunnel) exit 16E to take Route 3 West, which will take you right up to the parking lots for the Sports Complex.
Taking The New Jersey Turnpike South
Follow the Western Spur to Exit 19W (Meadowlands Complex/Carlstadt), which offers quick access to the parking lots at the Sports Complex. Please be aware that this road is EZ Pass ONLY. There will be no cash lanes accessible.
Use exit 163 on the Garden State Parkway South coming from the south (Route 17). 
Paterson Plank Road
To get to Paterson Plank Road, take Route 17. To get to the Sports Complex, head east on Paterson Plank Road.
The Garden State Parkway North is reached at exit 153A when taking it north (Route 3). To get to the Sports Complex, take Route 3 East.
What Types Of Events Are Presented At The MetLife Stadium?
The MetLife Stadium is a versatile venue that can accommodate various events. Three main spaces are available for rental: the Field, Club and Suite Levels, and the Pepsi Porch. The Field Level is the largest space and can accommodate up to 82,500 guests. The Club Level is
ideal for smaller events with a capacity of up to 3,200 people. The Suite Level is perfect for more intimate gatherings with a maximum capacity of 1,400 people.
Why Do The Jets And The Giants Share The MetLife Stadium?
The Giants had played their home games at Giants Stadium in East Rutherford since 1976, when they relocated there after spending their heyday at Yankee Stadium in the Bronx. After competing at Shea Stadium in Queens, the Jets moved to New Jersey as tenants with the Giants in 1984. MetLife Stadium, located close to the site of the former Giants Stadium, is now shared equally by the two clubs.
How To Go To The MetLife Stadium In Style?
NJ Limo is the perfect way to travel to MetLife Stadium in style. We offer various limousines and cars to suit your needs, so you can rest assured that we have the perfect vehicle for your group. 
You'll feel like a VIP riding in one of our opulent limos or automobiles, and our professional drivers will bring you there on schedule and in comfort. Whether going to a game or a an event, NJ LIMO will ensure that your experience is one to remember. So, give NJ Limo a call next time you're looking for transportation to MetLife Stadium. We'll be happy to give you a ride in style.